Aya Medany FEMALE EGYPTIAN OLYMPIAN a trail blazer for OTHER africans
·     Retired modern Pentathlete Aya Medany is using her status in Egypt to promote equal opportunities for women and men in sport and act as a mentor to young athletes. A few days ahead of the international day of sport for development and peace on 6 April, the winner of the 2014 IOC women and sport trophy for Africa has reiterated her belief in the power of sport to change lives.
Chierika finished second in the Final D of the Women Single Sculls, and final standing of 20th in the Olympics. Her remarkable journey is nothing short of inspiration to all.
The indomitable Icon – Great Roger Milla
African Legend and Cameroon born Albert Roger Milla remains one of the greatest footballers Africa has ever produced. He almost, single-handedly, earned Africa the extra slots in the World Cup with his exploits and jigs at the 1990 tournament in Italy.
Then 38-year-old Roger Milla illuminated the 1990 World Cup tournament—scoring four times and celebrating each time with a dance around the corner flag post—which has become a popular goal celebration ever since.
Roger Milla, who played all Cameroon's games at the tournament as a 'super-sub', helped the Indomitable Lions—as the national football team is known, to make history by becoming the first African nation to reach the quarter-finals of the World Cup.
Cameroon's successful run, along with Egypt's respectable showing at Italia'90 adventure, made the world soccer governing body, Fifa increase Africa's quota from two to three for USA'94.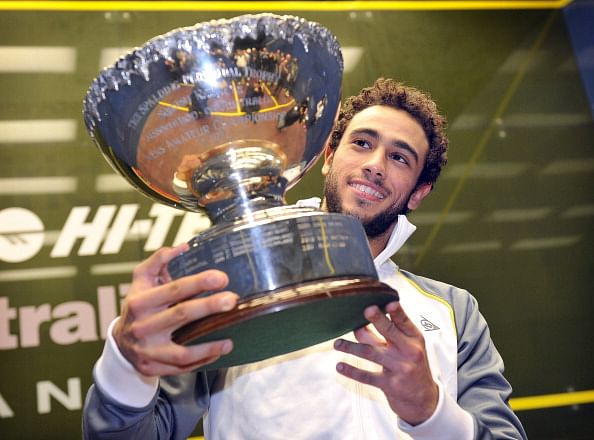 Ramy Ashour  The Egyptian Squash World Champion.
Meet the 'world's greatest racket sports player' who you've probably never heard of
He's charismatic on court and blessed with technical brilliance - but how many households can claim to recognise the name Ramy Ashour?
 World squash champion Ramy Ashour is one of the most garlanded players in professional sport. But despite the widespread belief that the brilliant Egyptian is one of the most technically gifted players ever to play the game (BBC Sport once asked whether he's the world's greatest racket sports player), Ashour is still one of the most understated sportsmen of the modern era.
Ahead of the new season, Ashour discusses his heroes and how he deals with losing.
Zimbabwean Coventry is African Most Decorated Olympian!
The African with the most Olympic medals is one of the great distance runners from Kenya or Ethiopia, right?
Nope.
It's a swimmer from Zimbabwe.
Like Michael Phelps, Kirsty Coventry is going to the Olympics for the fifth and final time, and she's swimming for one more little slice of history in the Rio de Janeiro pool.
Liberian soccer star George Weah was named African, European and World Player of the Year in 1995 and has since become a prominent humanitarian and politician.
Biography Of An African Legend Haile Gebrselassie Haile Gebrselassie was born April 18, 1973 in Asella, Arsi Province, Ethiopia. He is an Olympic and world champion. Winning two Olympic gold medals at 10,000 metres, and four world championships at the same distance. He has won major titles at all distances from 1500 metres to the marathon.
"I was born in the ghetto. AJ! Ajegunle! I was born in Ajegunle" Odion Ighalo reiterated proudly.
"It was difficult to live, difficult to eat and that is why I thank God when I look where I am now, we didn't always have what we wanted or needed, we had to struggle," he told The Guardian It was early morning somewhere in the ghetto of Ajegunle, Lagos State, the center of commerce in Nigeria – West Africa. The sunrise came quickly on that fateful day, the weather was already blowing hot.
More Articles...
Location
Get your tickets today!
Currently
1,000

tickets available